Systems
Aspect Voice supply and maintain leading edge, reliable business telephone systems from the industry's leading vendors, from stand-alone traditional digital systems through to large-scale networked and UC solutions
Through our partnerships with the industry's leading vendors and our in house resources, our teams have the skills and expertise to deliver the right solution for your business.
Our consultative approach draws on decades of experience from many varied installs to ensure that you have the solution that best fits your business. Whether that involves conventional desktop handsets, wireless or DECT handsets, VoIP technology or Unified Communications, we can supply, install, and maintain a perfect fit telephone system for your business
Through a true understanding of your business operations and strategies, we provide flexible and scalable platforms with modular options to enable change within your organisation
Our solutions provide many business enhancing options, from linking multiple locations, enabling home working and remote office collaboration, to providing mobile phone and email integration to streamline working practices.
We focus on ensuring that you are happy with your telephone solution, and that you are regularly updated with any new developments that may be beneficial to you. We don't just supply – we will inform and work with you to make sure you get maximum benefit from your system.
Welcome to a unified world.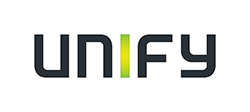 Unify, formerly Siemens Enterprise Communications, is a global communications software and services company. Our new name reflects perfectly what we do: we unify our customers' communications systems.
By synchronizing technologies, creating an engaging user experience and weaving communications seamlessly into the way businesses operate, we empower an increasingly mobile workforce to work better together. The result is a transformation of how the enterprise communicates and collaborates that amplifies collective efforts, energizes the business and drives better performance.
Born out of the engineering DNA of Siemens, Unify builds on a heritage of product reliability, innovation, open standards and security to provide integrated communications and networking solutions for 75% of the Global 500. Unify is leading the market with its vision of a dynamic communications and collaboration platform. Unify is a joint venture of the Gores Group and Siemens AG.
"I was extremely impressed with how they interpreted our business needs and with the way in which the installation work was carried out. The support service was and remains second to none..."
- Mrs Deborah Patterson, Business Manager, Heworth Grange Comprehensive School